Compact 2 Berths campervan
At just 6 metres, our 2 berth Explorer compact motorhome is a fantastic option for the couple who want to travel in comfort. With a fully equipped kitchen, toilet and shower facilities on board, a spacious lounge area and a comfortable permanent double bed. This campervan navigates as if you are driving a car, and fits in a standard parking space. 
Book a compact Explorer motorhome and secure your dream holiday to New Zealand today.
Details
Vehicle
Included
Living
Video
360 View
Details
Special features
✓ Built on a European chassis.
✓ Swivel seats.
✓ Fully equipped kitchen with 3-burner stove, oven and fridge.
✓ Relax on the double-size (permanent) bed.
✓ Shower / Toilet.
✓ Certified self-contained for freedom camping (where permitted).
✓ Central hot air heating for colder days/nights
Perfect for
✓ Glamping – luxurious camping.
✓ Exploring more remote locations around New Zealand.
✓ Easier to park – just under 6 meter; Fits in regulair car park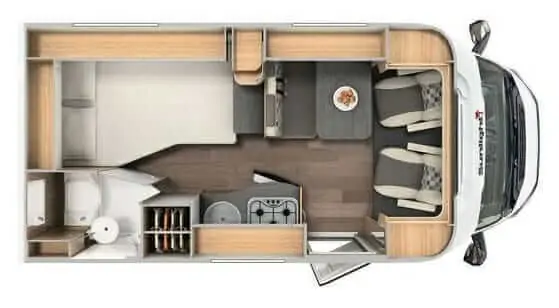 Vehicle
Included
Living
Video
360 View
Always included:
Comprehensive insurance – including overhead and under body damage (excess/deductible applies)
Transfers – from the airport or your airport hotel at the start and end of hire.