You can start and end your road trip from our base locations Auckland, Paihia (North Island) or Christchurch (South Island) or any other domestic airport on request.
If you chose to visit both islands, you can do a one-way hire; this will save you on diesel and ferry costs but most of all: Save on time, so you can really explore, and not just 'tick off' the top tourist locations as quickly as possible. Unlike many other companies, we don't charge you one-way fees.
Motorhome rental Auckland Airport
If you plan to start your motorhome hire in Auckland, handover is between 10:00 – 16:00 It will take approx one hour to familiarize you with the motorhome.
We don't hand over your motorhome straight after arriving from a long-haul flight. Unless you are from Australia or spend holidays there first, we require an overnight rest period for your safety and to avoid driver fatigue.
Arriving late? Stay in one of the many Airport Accommodations available or choose for the Paihia pick up:
Auckland transfer & Motorhome pick-up from Paihia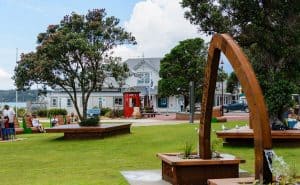 For an extra relaxed start to your motorhome trip, why not start from our B&B in the Bay of Islands? (International arrivals only, and rentals over three weeks)
We will personally collect you from Auckland Airport (or accommodation) and transfer you to Paihia. There will be ample time to discuss your itinerary over dinner with Rob and Nick, and the following morning after breakfast we will hand over the motorhome. The transfer day counts as your first rental day.
We only have two rooms, if there is no room available, you will sleep in your motorhome, there will always be dinner and breakfast!
Please note: Transfer from the Airport (or Airport accommodation) from 10:00. This option is only available for flights arriving at 13:00 at the latest. It takes 4 hours to get to Paihia, and we want to be in time for dinner!
Return the Motorhome at Auckland Airport
Return of the campervan can be arranged near the airport between 9:00 to 16:00
After we have checked the Motorhome for damage, we will bring you to the departure terminal, or an Airport hotel. 
Return the Motorhome at Paihia & transfer to Auckland
Hand back the motorhome on your second to last day and stay at Baystay B&B for the last night (depending on availability, International departures only, and rentals over three weeks).
There will be ample time to tell Rob and Nick about your adventures over dinner, and the following morning (the last rental day) we personally transfer you to Auckland airport. The transfer day counts as your last rental day.
Please note: This option is only available when your flight departs at 14:00 or after. The transfer time is four-hours, and you need to check in three hours before flight departure.
Auckland ↔ Christchurch One-way
We also offer one-way travel between Auckland ↔ Christchurch no extra costs. There are benefits to one-way travel such as:
Less driving time

The time you gain can be used to explore and relax!

Fewer diesel costs
Only one ferry crossing
Check out the South Island return location.
If you haven't already requested a one-way quote, you can do so here