Our convenient base locations in Auckland, Paihia (North Island), and Christchurch (South Island) make it easy for you to start your adventure from wherever you want.
If you're planning to explore both islands, considering our one-way hire option will help you save on diesel and ferry costs, while also giving you more time to truly enjoy New Zealand's stunning beauty. Don't feel like you have to rush through the top tourist locations, take your time and explore the country at your own pace.
Unlike other rental companies, we want to give you the freedom and flexibility to truly have an adventure without any added fees. 
Motorhome rental Auckland Airport
If you plan to start your adventure with a motorhome from Auckland, our handover time is between 10:00 – 14:00.
It typically takes about an hour to show you everything you need to know about your motorhome.
We care about your safety and well-being, which is why we don't hand over your vehicle straight after a long-haul flight. For international customers (flight time more than six hours and/or flight arrival after 1pm) we require staying one night in accommodation, before picking up the Vehicle to avoid driver fatigue.
Don't worry, there are plenty of great accommodations available near the airport. Alternatively, you can decide to start your motorhome adventure from Paihia.
Auckland transfer & Motorhome pick-up from Paihia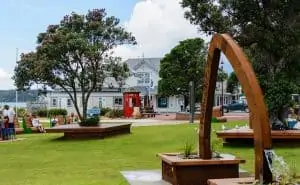 Looking for a relaxing way to kick off your motorhome adventure? Our B&B is the perfect place to start for international arrivals and rentals over three weeks. We'll even come to pick you up from Auckland Airport or your accommodation and transport you to Paihia.
Over dinner, we'll chat about your itinerary with Rob and Nick and in the morning, after a delicious breakfast, we'll hand over the motorhome. The transfer day counts as your first rental day.
We only have two rooms, so if they are already taken, there will still be dinner and breakfast, and you can sleep in your motorhome.
Please note that airport transfers are available from 10:00, and flights arriving at 13:00 at the latest to make it in time for dinner. 
Return the Motorhome at Auckland Airport
You can return the campervan near the airport any time between 9:00 and 16:00.
Once we check it for any damages, we'll happily take you to the departure terminal or an airport hotel. Please let us know if you have any questions or concerns – we're always happy to help!
Auckland ↔ Christchurch One-way
We also offer one-way travel between Auckland ↔ Christchurch no extra costs. There are benefits to one-way travel, such as:
Less driving time

The time you gain can be used to explore and relax!

Lower diesel costs
Only one ferry crossing
If you're interested in returning your motorhome to Christchurch instead of Auckland airport, please click here for more information.