We started Bay of Islands Campervans with one thing on our mind: providing a service just like we want to receive ourselves. A bit of luxury (call it 'Glamping'), reliable material and above all, know who you are dealing with.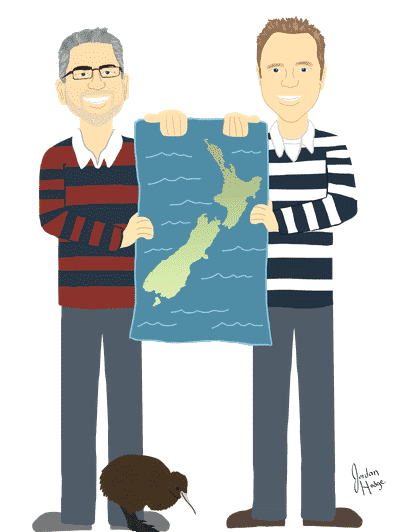 Hire with us, Rob and Nick, and you can count on our expertise and personal attention. We provide 'turn-key' motorhomes, complete in any way, so all you have to bring is your camera and clothes.
We are real motorhome enthusiast and  have travelled New Zealand up and down many times ourselves (still do whenever we can!). We know where 'Kiwis' go, great places to stay, where to eat or what to see. Not only that, but we are happy to share this information with you! Sent us your itinerary, and we make suggestions based on personal experiences.
Pick- or drop- your motorhome anywhere you like, as long as there is a domestic airport, so we can get home again…
If you start from Paihia and meet us in person; Rob or Nick will collect you from Auckland Airport to Paihia and you stay the night in our Baystay B&B.
On your first night, we'll enjoy an evening meal, then it is off for a good night sleep in a luxurious room and the next morning a lavish breakfast. We take all the time it takes to explain the motorhome of your choice. Any questions you may have, we can answer from personal experience.
Can you see yourself, refreshed and relaxed, take off on a Motorhome adventure knowing your rent with the best?
We pay attention to detail to make sure things important to you are taken care of by us. Contact us and you will talk to Rob or Nick. Any time, All The Time, and above all, we know who you are. Special requests are a challenge, never a problem.
Rob and Nick pay attention to detail; things important to you are taken care of by us
Advice on route-planning
Special requests – not a problem!
We are looking forward to hearing from you.
Cheers, Nick, and Rob.
Reviews: What our customers have to say about us: