Motorhome Travel Specialists
Bay of Islands Campervans was founded with a keen focus on providing a service that we ourselves would love to receive. We take pride in delivering a luxurious and comfortable camping experience, that has been dubbed as "Glamping". Our commitment to using reliable materials ensures that you have a trouble-free, stress-free and enjoyable time during your camping trip with us. We also believe that it is important for our clients to know exactly who they are dealing with, which is why we go above and beyond to provide a personalized and friendly service. Our passion for camping and exploring the great outdoors inspired us to start Bay of Islands Campervans, and we are dedicated to sharing that passion with you. So, if you are looking for a unique and unforgettable camping experience, look no further than Bay of Islands Campervans!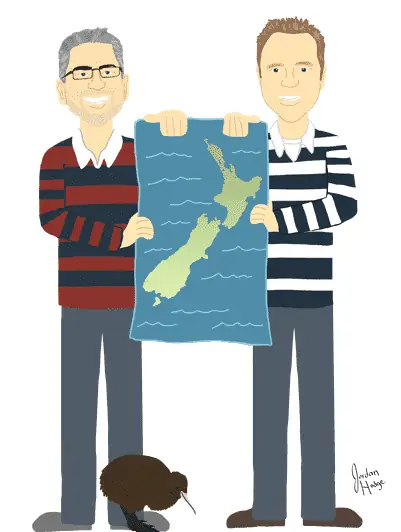 With years of personal travel experience under our belts, we are the ultimate experts on all things New Zealand. Not only do we provide turn-key motorhomes that are fully equipped with everything you need for an amazing adventure, but we also offer personalized attention to every guest. We'll even provide suggestions for your itinerary based on personal experiences and knowledge of the best places to stay, eat and explore.
We provide 'turn-key' motorhomes, complete in any way, so all you have to bring is your camera and clothes.
For an extra special touch, start your motorhome adventure by meeting Rob and Nick in person in Paihia. They'll personally collect you from Auckland Airport and invite you to stay overnight in their B&B. Enjoy an evening meal with your hosts, followed by a restful sleep in a comfortable room, then wake up to a delicious breakfast while Rob or Nick explains everything you need to know about your chosen motorhome. Bay of Islands Campervans, you can trust that you're renting from the very best.
We pay attention to detail to make sure things important to you are taken care of by us. Contact us and you will talk to Rob or Nick. Any time, All The Time, and above all, we know who you are. Special requests are a challenge, never a problem.
Rob and Nick pay attention to detail; things important to you are taken care of by us
Advice on route-planning
Special requests – not a difficulty!
We are excited to hear from you.
Cheers, Nick, and Rob.
Reviews: What our customers have to say about us: