We're excited to help you plan your New Zealand road trip. Did you know that you can conveniently start and end your trip in either the North Island or South Island? Most international flights arrive in Auckland, which is a great starting location for exploring the North Island.
Depending on where our campervans are, we will sometimes offer you northbound rather than southbound hires. In that case, you can then first transfer on to a domestic flight to Christchurch. 
Our rental locations include Auckland, Paihia, and Christchurch.
When planning to explore both islands, we suggest considering a one-way hire, as New Zealand's unique long and narrow shape makes it perfect for one-way travel.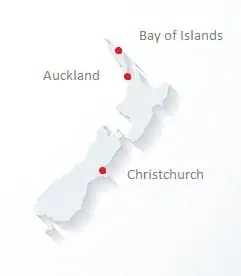 We highly recommend spending quality time on just one island for a two-week trip and avoiding a return trip for a three-week or longer hire. Our country may appear small on the map, but don't underestimate the distances and road conditions.
Do you want to sit behind the wheel for the whole vacation and check off tourist destinations one by one, or do you want to also immerse yourself in the experience; take a leisurely walk, relax, or catch the stunning views?
Besides taking less driving time, there are cost benefits to travelling one way, such as less fuel usage and only needing to take the Cook Strait ferry once. This saving can outweigh the price for domestic flights between Auckland and Christchurch (or vice versa)!
Our company doesn't have any charges for one-way hire fees, unlike many others.
Rob and Nick have explored Aotearoa (Maori for New Zealand), and we're excited to help you create a personalized one-way motorhome hire package.