You can start and end your road trip in either the North Island or the South Island. Most of the international flights (about two-thirds) land in New Zealand's largest city: Auckland on the North Island.
Depending on where our campervans are, we will sometimes offer you northbound rather than southbound hires. In that case, you can then first transfer on to a domestic flight to Christchurch. 
We operate from Auckland, Paihia and Christchurch, and also offer hiring from other domestic airports, at an extra cost.
When you plan to explore both islands, we advise to look into an one-way hire. New Zealand's long and narrow shape is ideal for one-way travel.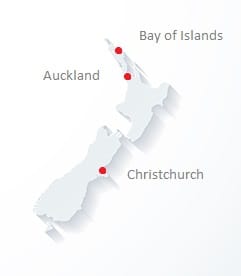 For a two-week hire, we advise concentrating on 'just' one Island. For three weeks and longer hire, we recommend you avoid a return trip taking in both North and South Islands. New Zealand may look small on the map next to Australia, please don't make the mistake of underestimating the distances and road conditions.
Are you looking to spend most of your vacation behind the wheel? Drive from one place to the other, "ticking off" tourist destinations? Or do you also want to experience what's there; take in that view, go for a walk or do nothing; just relax and enjoy…
Besides the extra time you spend, there are cost benefits going one-way as well. You have to drive less, so less fuel. You also only have to cross the Cook Strait once by ferry, a saving that can outweigh the price for domestic flights between Auckland and Christchurch (or vice versa). Unlike many other companies, we don't charge you one-way hire fees.
Rob and Nick travelled all over 'Aotearoa' (Maori for New Zealand) and can help you design the best personal one-way Motorhome hire.