Freedom Camping is a great way to enjoy some of the best parts of our country. Most places you need a Certified Self Contained motorhome to freedom camp. Here's how to do it with care. 
Leave no trace
The Department of Conservation's website contains useful information on how to keep safe and leave no trace in the outdoors. 
Use a public toilet or the one in your vehicle
Please respect our home and other travelers by using the proper facilities. Just look for the signs. You can find a public toilet near you by searching the AA map. 
Use a dump station to dispose of campervan waste
It's important you dispose of your water and toilet waste in a safe and environmentally sound way. Search the AA map to find a dump station near you or look out for the blue dump station symbol throughout the country.
Stay at a campsite
For the best experience, stay at one of the many great campsites. With many having cooking, toilet and shower facilities on site, there's everything you'll need.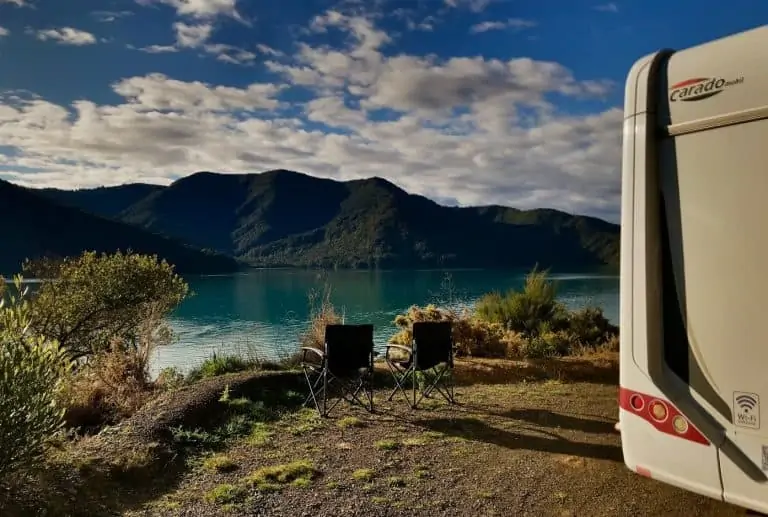 Campsites and campgrounds
For the best experience, stay at one of New Zealand's great campsites. Many campsites and campgrounds even have cooking, toilet and shower facilities on site; everything you need in one place. You might even make new friends. 
There is a wide range of options to choose from across the country, including commercial campsites and ones operated by the Department of Conservation. 
Each campsite is unique. One day, you could be staying in a forest setting and the next on a lake shore or beach – you truly are spoilt for choice! 
Many campsites provide sites for tents, caravans and campervans and many also have cabins, self-contained motel units and backpacker lodges. Powered sites are also often available. 
To search for a campsite, visit one of the websites listed below or use the CamperMate app.
New Zealand is precious, and everyone who lives and travels here has a responsibility to look after it.
The Tiaki Promise is a commitment to care for New Zealand, for now and for future generations.
By following the Tiaki Promise, you are making a commitment to New Zealand. To act as a guardian, protecting and preserving our home. 
Key messages about freedom camping:
You aren't allowed to camp wherever you like. If you camp in the wrong place, you could face a significant fine.
Where you camp depends on where you are and what kind of vehicle you are using. Assume nothing – always ask at the local i-Site, or check Camping apps or the local council website.
Rules on freedom camping vary around New Zealand. It's up to each community to decide how to manage it locally, so check rules first on the camping apps or local council website. There will often be council signs as well. 
You can camp in more places if your vehicle is Certified Self-Contained. All Bay of Islands Campervans are Certified Self-Contained.
We recommend using CamperMate! 
The free New Zealand travel App is available for download from Google Play and the Apple App Store. You can easily find information as camp-sites, toilets,
waste stations,  hostels, things to do, public toilets, rubbish bins, free WIFI,  supermarkets and more.
It doesn't matter how much research you do before heading off on a camping or caravan trip, there'll always be situations when you need to find something while you're on the road — be it a campsite, ATM, petrol station or public showers. That's why you should never leave without CamperMate's maps on your phone.
CamperMate's maps display a variety of camping, travel and RV-specific information right across New Zealand and Australia, giving you a reliable tool that helps you quickly locate the services you need most, as well as attractions, deals, accommodation and comments from fellow travellers.
Play around with the online map, but to really get the most out of CamperMate, make sure you download the app.