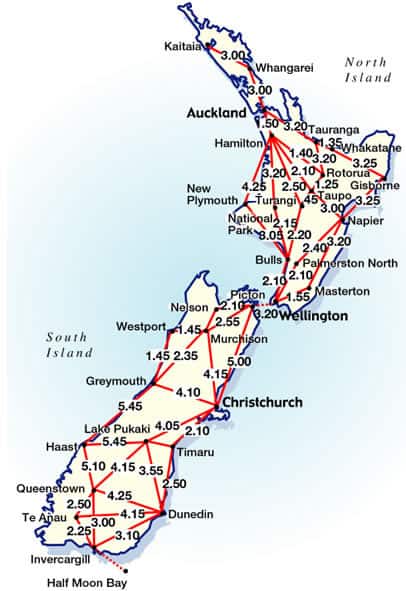 It is easy to underestimate driving times and distances. On the map, a distance may seem short, but most roads are narrow with curves and hills (called State highway) and vary from motorways (Expressways) to unsealed gravel roads.
The road layout and conditions make that distance doesn't mean much, and you will notice most kiwi's will give you a travel time if you ask how far away a destination is.
At best, you can compare our 'highways' with secondary (80KM) roads in countries like the UK, Europe and USA. Not designed for fast travel, and you wouldn't be the first to experience motion sickness.

Except for around a few cities, they are mostly two lanes, with only one lane in each direction, no median barrier.
The distance travelled per hour
OK, on most open roads you are allowed to drive 100 km per hour, you'll often need to go slower than the limit to drive on our roads safely. That means a 100 km distance will seldom equal one hour of driving. It will usually take a lot longer, so always allow more time when planning your trip.
As a rule of thumb, we use an average of 60 kilometres distance travelled per hour, and this does not include stops for breaks or viewpoints…
Below, some examples when driving on mayor highways, going off the beaten track takes a lot more time! On gravel road (unpaved road surface), you will be at snail's pace.
| | | | | |
| --- | --- | --- | --- | --- |
| FROM | TO | DISTANCE_BETWEEN | TRAVEL TIME | TRAVELLED PER HOUR |
| Auckland | Hamilton (4 lane motorway!) | 121 | 1 Hour, 21 minutes | 90 KM |
| Auckland | Paihia | 230 | 3 Hours, 07 minutes | 74 KM |
| Thames | Coromandel town | 54 | 1 Hour | 54 KM |
| Taumarunui | Stratford (Forgotten World Highway) | 149 | 2 Hours, 34 minutes | 58 KM |
| Christchurch | Greymouth | 242 | 3 Hours, 12 minutes | 75 KM |
| Queenstown | Glenorchy | 46 | 42 minutes | 65 KM |
| Te Anau | Milford Sound | 118 | 1 Hours, 25 minutes | 83 KM |
| Nelson | Westport | 216 | 2 Hours, 53 minutes | 75 KM |
| Hokitika | Haast | 275 | 3 Hours, 27 minutes | 79 KM |
Travelling distance calculator
To have a reliable source to calculate the time it takes to cover a distance safely, we advise using the AA travel times calculator. Moreover, we add extra time to take in the lifestyle or to enjoy a coffee stop! Make the road trip a part of the journey!
Take your time, enjoy the ride itself!
The drive is part of your holiday. Stop at that great "lookout", make a good cup of coffee (advantage of travelling by Campervan) take the chairs from the "trunk" and really enjoying the surroundings. With a little luck, have your view for yourself. We recommend you stay 2 or more days in places to truly experience the lifestyle or that little village. It is not about how much you drive during your vacation, is it?
Frequently Asked Questions
How long does it take to drive from the top to the bottom of New Zealand?
28.5 Hours for the 2060 KM journey. That does not include the Cook Strait crossing (for the ferry you need to add another 5-6 hours all up), stops or any sightseeing.
How many days do you need to see New Zealand?
The bare minimum is 14 days to get an impression for visiting both the North Island and South Island of New Zealand. That's roughly one week's travel time per island, just long enough to see the highlights. We advise a minimum of 3 weeks for both Island, and if you can only spare 2 weeks, concentrate on either North- or South- Island.
What are the best months to go to New Zealand?
December to March, temperatures are between16°C to 24°C, mostly dry sunny days.